Our Team
Management Team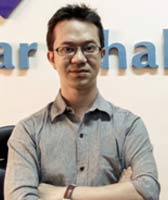 Sammy Samuels- Managing Director – Myanmar Shalom
Graduate of Yeshiva University, Sy Syms School of Business in New York City, Sammy Samuels has promoted his country, Myanmar to all who know him. That's why some of his friends and colleagues call him the "Ambassador of Burma." His over 10 years experience in Business and travel industry abroad & love and thorough knowledge of Shalom operation team has made Myanmar Shalom Travels stand out among many travel companies.
During his years in America, Sammy has assisted many people in designing and arranging their visits to Myanmar. Through Myanmar Shalom, Sammy is bringing more tourists to his amazing country. Sammy is also the leader of Jewish Community of Myanmar and his unique role in the Jewish community of Myanmar and about Myanmar Shalom Travels has been chronicled in articles in the New York Times, L.A Times, Jerusalem Post, Travel & Leisure and other newspapers.
Operation Team
Operation Team At Myanmar Shalom Travel, we know well that our success depends on the quality of our people and the high degree of standards they set for themselves. We are fortunate to have talented and dedicated people working for our company.
Myanmar Shalom office team and tour guides range from youths to seniors, all of whom are very knowledgeable, flexible and understanding of the rigorous requirements of today's travelers. They have extensive experience hosting group and individual tours, sharing their love and knowledge of their native country with visitors from around the world.